Assess. Engineer. Innovate.
Design for Manufacturing (DFM) and Engineering Support
At Airspeed, all of our customer support staff are former engineers and designers- this means that from the onset, you will be discussing your project requirements and design specifications with people who have the technical knowledge to speak your language.
Many of our staff have worked for major global brands and industrial designers, creating everyday products that are familiar the world over. Our experienced staff span the entire globe and communicate using the latest 3D CAD software packages, which ensures seamless correspondence and uncompromised response-time.
Airspeed takes a total design approach, addressing important issues in today's highly competitive markets in which cost, quality, human factors and environmental sustainability all play key roles in achieving business objectives. With our diverse portfolio we provide opportunities to combine disciplines and provide subassemblies and modules to streamline your production.
CAD support
Airspeed's senior engineering staff in the US, UK and China typically have 15-20 years individual experience in mechanical part design and manufacture.
We encourage our customers to engage with us early in the design process; often, we can discuss your requirements and make suggestions to simplify and enhance component performance. We will review your datapack in great detail, ensuring we have understood the tolerances and critical dimensions you need to achieve.
DFM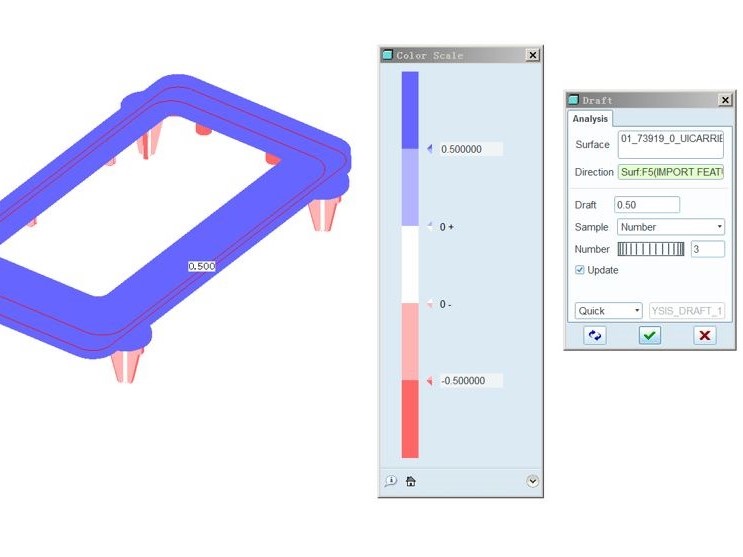 Airspeed excels in providing DFM feedback to our customers. Not only do we provide full DFM reports with mould flow analysis, but we will provide active feedback on how part geometry can be improved to give the best finish, recommending gate positions and draft for best surface finish, help to eliminate sinkage, recommend ejector pin locations and optimise tooling to achieve the most reliable results.
Prototyping and V&V
With 3D printing facilities and a test laboratory on-site, Airspeed is able to assist with validation testing during the design-phase as well as investigating and monitoring production quality. Unlike many of our competitors, We are able to support low-volume and pilot-production because we have a team of staff dedicate to New Product Introduction (NPI) programmes; flexibility and investment in our customers' ideas is one of our core values. If you have the vision, we have the innovation.
Tooling and Jigs
DFM is an end-to-end process; we will begin thinking about jigs and fixtures and how we can ensure production is controlled and standardized from the outset. Airspeed have a dedicated production support/production engineering staff who manage the site maintenance programme as well as designing and building test fixtures.
Airspeed
Engineered solutions for your business.
---
Contact us to see how we can help you assess, engineer and innovate today.
Contact Us
Corporate Headquarters
Airspeed LLC
980 Corporate Drive
Suite 200
Hillsborough
NC
27278
USA sales@airspeedllc.com
+1 919 644 1222
Social Media